the questions you want to know the answers to.
FREQUENTLY ASKED QUESTIONS
What is the process for Design?
Firstly we'll have an onboarding strategy meeting with you to get an idea of who your ideal customer is, from this meeting we'll also get an idea for how you want the look and feel of the website – we then marry the 2 to make a website that fits your demographic and the look and feel you want.
How do you show us the progress of the site?
We host the website on a test server that we run, the link we provide you will always be the staging website (in build site) and you'll be able to see any and all changes as they're made.
Do you use a Wire framing technique?
Yes, we will put in place holder content, to provide you with an overall look and feel. If you're happy with the look and feel we will start to flesh out the site with more relevant content.
Will we be able to see the customer journey before launch?
Yes. The website will always be fully visible to you during the build process so that we can collaborate on any changes.
Do you test the site before launch?
We do a full QA Test before launching the site to find any bugs/mistakes as humanly possible. We even automate some of this work for repeat testing.
Will testing be conducted to ensure content is showcased correctly across all mobile devices?
We always design Mobile first. We build the website as standard with 3 breakpoints, this will work for Mobile, Tablet, and Desktop. If you have specific device needs you should let us know in the brief.
What security features will be in place in terms of handling data?
All of our websites are placed on a secure server and your domain will come with an SSL. This is a secure socket layer that will encrypt all data sent to and from your website from your customers. We will also have cookie consent
How long will backup material be held?
We hold Daily, Weekly and Monthly backups. We delete each old backup as a newer one becomes available. An example would be:
Daily: Sep 26 00:02
Sep 21 02:05
Aug 27 04:01
They get replaced on a daily weekly and monthly rotation
What will the load times on the website be like?
We know that 40% of people will drop off a website if it takes longer than 3 seconds. We will always aim for the fastest load times, but because of far too many factors we cannot make a guarantee however historically we've generally been able to get the loads times to 2 seconds or lower – This is the industry standard.
Is there training included once the website is created?
We provide training on how to use the website, it's fairly comprehensive and will leave you feeling confident on managing your own website.
Images that our used on the website - are these ran through an image optimizer to ensure they are the best quality?
All of our images are compressed before upload to reduce file size and load times. We only use the best quality images available to us, if they're not available, we'll create them.
It doesn't happen overnight, we're good but no one is that good. We've taken a methodical process to how we onboard & web ready our customers
If you haven't got it right after 25 years, it's safe to say you haven't got it. Constantly refining and staying up to date.
Put us to the test for your next big jump, we will not dissapoint. We're not about the money, we're about the relationship.
Time Management
We effectively manage our time to ensure that all of our customers get the best and highest use of our time.
User Testing
We try (and admittedly, we can fail) to find demographics through a constant refining process for our client brands
Market Research
We become you. We think like you. We find out as much about you as humanly possible. We are you.
Team Management
We've got a lot of talentin our small and creative team. We put the brightest minds to work using their strengths to build your brand.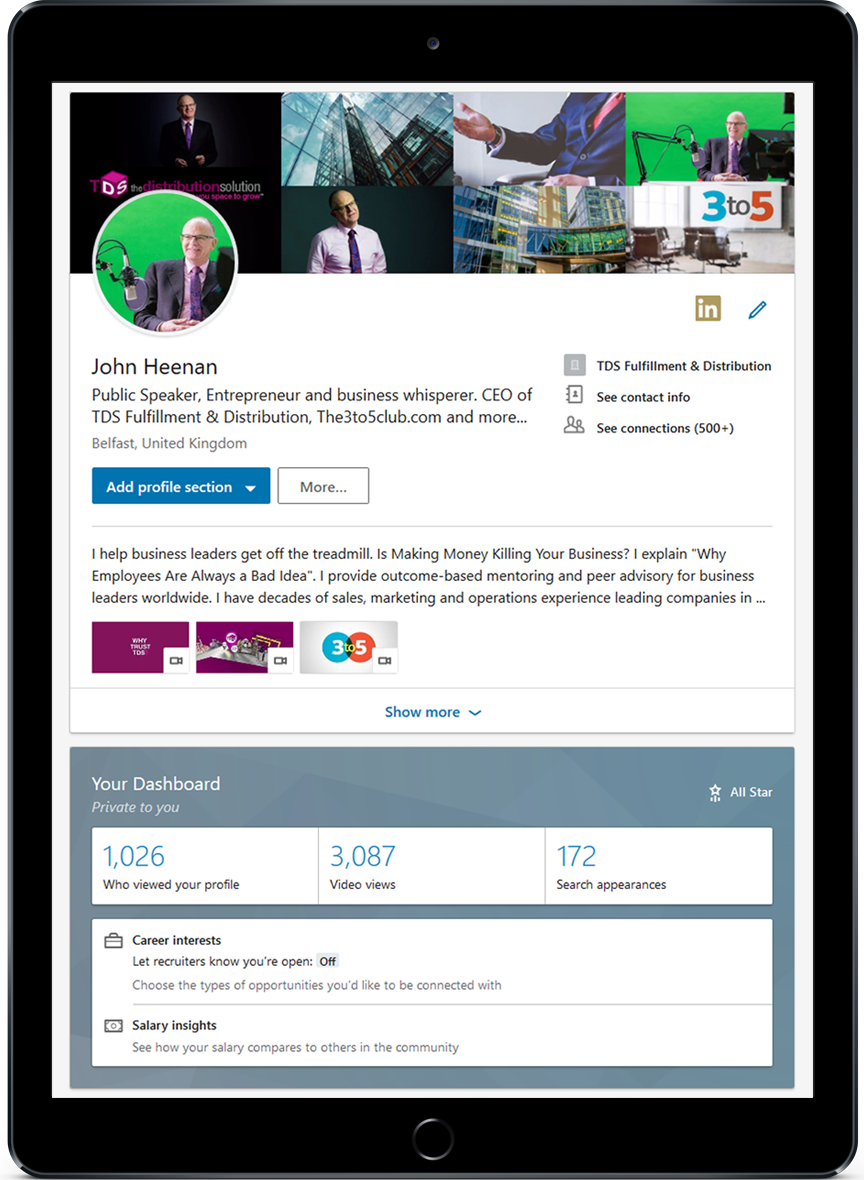 Become a thought leader
Posting about your industry to become the thought leader in your area of expertise. We share valuable information about your industry to build trust and that means people will buy.
Brand Redesign
Need a lick of fresh paint? We've got it all. We didn't get here in 25 years by accident, it was thoughtful solutions and talent.
web Development
Need a shiny new website? A landing page or even just a funnel page, we've read every book and seen every trick on making successful landing pages to captivate your audience – converting them from eyes to Dollar (we really mean Sterling)
LET'S HUSTLE
© CREATIVE3MEDIA
ALL RIGHTS RESERVED
We collaborate with ambitious brands and people; lets build something great together.

 Design by Creative3media | Made with <3 | 1a Kings Road, Whitehead, BT38 9PU | Map | Tel:  028 9086 0646